May 19, 2021
In simple terms, an electric actuator consists of a motor and a gear train which is commonly powered by a 12-24 VDC Power Source. Electric actuators are mounted on valves to automate the control of the fluid through the valve. They can be either rotary, meaning they will move the valve in a rotary motion to open and close it, or linear where the valve stem is moved up and down by the actuator.

An electric actuator uses an input signal from a PLC (programmable logic controller) to control the valve. The input signal can either provide modulating control or simple open-close functions to the actuator. There are many different electric control systems available the most common being the 4–20mA for modulating control and TTL for on/off control. Modulating actuators are mounted on multi-turn or linear valves that require higher levels of control and in some cases a higher degree of precision. On-off actuators are a much simpler type of actuators and are usually mated with quarter turn valves. These type of actuators will typically fully open or fully close a valve.

Electric actuators vary largely in torque outputs, running from as little as 3 in-lbs to more than 700,000 in-lbs (1 NM to 80,000NM). Companies will specialize in a certain torque range but will never specialize in providing actuation solutions for all torque requirements. Some companies focus on smaller torque ranges that are meant to automate small valves usually with high precision and faster speeds. Other companies focus on larger valves that require stronger actuators but slower speeds. Generally, the higher your torque output the slower the actuator will be at actuating a valve. Naturally, high torque actuators also tend to be much bigger in size.

The main advantage of electric valve actuators is their precise and accurate positioning control. Electric actuators can be set to any position based on a specific input signal. They offer repeatability and some of the fastest movement among all types of actuators. Electric actuators are efficient, simple to install and require little maintenance. They are used in many different industries due to their wide range of specifications and various additional feature options. Electric actuators are also available as certified explosion proof for applications in harsh or hazardous environments.

As previously mentioned, electric valve actuators are divided into multiple categories: Multi-turn, Quarter-turn and Linear. The following goes into more detail on what each type of actuator is typically used for and what their distinct advantages are: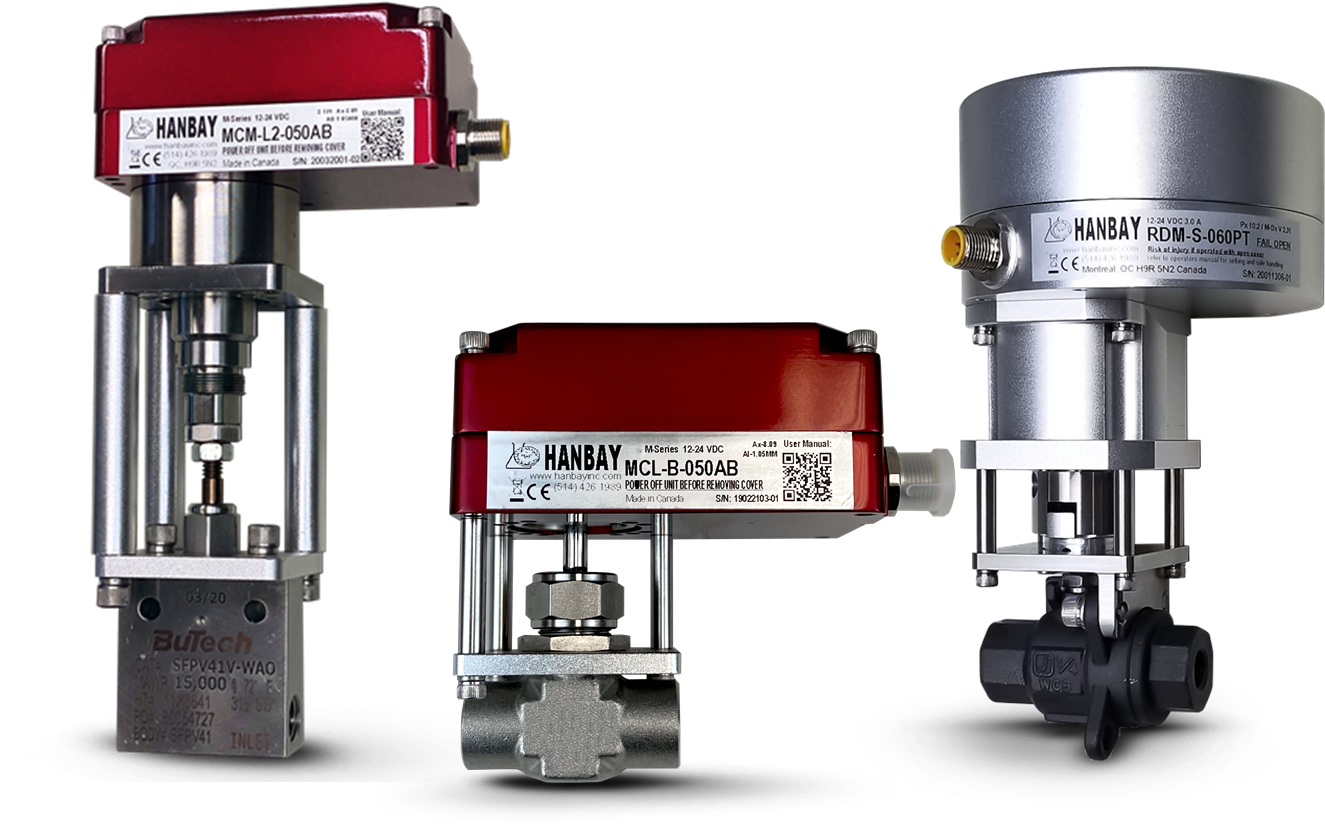 1. Electric Multi-turn actuators (modulating):

Multi-turn actuators are perfect for applications that require high-precision flow control. These actuators are typically used in precise low flow rate applications with small valves ranging from 1/16" to 1" in line size. Valve types include needle valves, metering valves, micro-metering valves, bellows valves, globe valves and pressure regulators. They are used for applications in many different processes where precise flow control of gases or liquids is a necessity. In some applications, these actuators can also be paired with V-Port ball valves for flow control or multi-port valves for mixing.
2. Electric Quarter-turn actuators (on/off):

Quarter-turn actuators usually only turn in 90-degree increments. They are primarily used for on-off applications and therefore are mainly paired with ball valves (2 & 3-way), butterfly valves,and plug valves.The quarter-turn actuators are more cost effective compared to the multi-turn actuators because they are limited in their control capabilities.An advantage of a quarter-turn actuators is that they can be fitted with an emergency power source such as a battery backup or a spring return to provide failsafe operation.
3. Electric Linear actuators:

Linear actuators are designed to convert rotary motion provided by the motor into linear motion through a threaded leadscrew mechanism. The reason why you would choose a linear actuator is simply that some valves are linear acting and therefore require a linear actuator for automation. In linear motion valves, the stem and valve movement is up and down rather than rotary. Electric linear valve actuators can provide high precision control to linear acting needle valves. The advantage of using a threaded leadscrew type linear actuator is that it can be optimized for either finer control or faster linear displacement, depending on the clients' needs.
If you are not sure which actuator is the right fit for your application, don't hesitate to contact one of our engineers who would be happy to help you with your requirements.